Build a foundational architecture to solve your business challenges and be compatible with your ecosystems
Company of software Architecture experts
Andersen's team is a pool of skilled and experienced IT engineers whose expertise is verified by numerous certificates and industry acknowledgments.
Core fields of IT architecture
Here are the dimensions of your business that a foundational IT architecture can improve.
Business
The emphasis is on result-driven procedure views and models, prepared with Andersen's team:
Business Architect

Enterprise Architect

Digital Transformation SME
Application/Operations
The focus is on intelligent, powerful, and robust solutions crafted by Andersen's IT Architects:
Solutions Architect

Network & Infrastructure designer

Integration Architect
Technology
The priority is the material facet of solution delivery encompassing the hardware and technology options, implemented by Andersen's specialists:
Software Architect

AWS, Azure, GSP designer

DWH/BI data architect

ML and AI Specialist
Whatever your software challenge is, our Solution Architecture experts are ready to help you with complex processes. Schedule a free consultation.
Positive effects of Solution Architecture on your business and IT initiatives
Balanced IT ecosystem
Ambitious IT initiatives should be matched with your entire enterprise ecosystem via solution infrastructure. This is the best way to make them high-performing and productive.
Digital transformation
Such processes mean your business should reassess how the value is delivered. This is only possible if you harmonize tech and business priorities.
Diminished IT risks
If your software projects involve several frameworks, uncertain specs, and multiple products, this is a risk. It is the IT architects' job to eliminate this.
Secured investments
Software development projects consume substantial resources. Solution infrastructure prevents emergencies and misallocation of resources.
Enhanced communication
Solution Architects will serve as a communication link between tech and non-tech team members. Thus, your colleagues will cooperate more effectively.
Quick IT troubleshooting
Reliable solution infrastructure ensures transparency, streamlines problem-solving processes, and facilitates troubleshooting.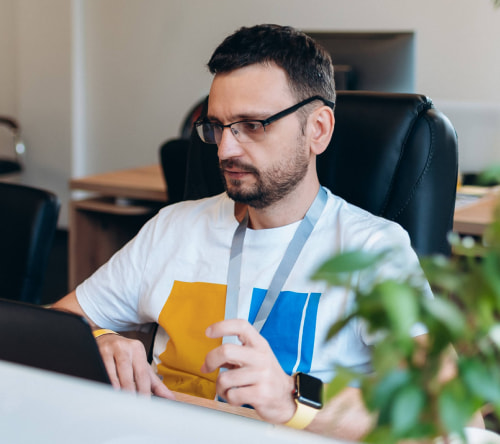 Here you can learn more about the Architecture as a Service approach and Andersen as a pioneer in this innovative area
Explore AaaS
Case Studies
Providing a full range of software development services, we create custom-built solutions that fully meet our clients' business needs. Some examples are reflected in these case studies.
Andersen's IT Architecture experts
Andersen will help you with any solution architecture challenges by providing skilled experts. Choose CVs.