Work with an expert Media & Entertainment IT company
110+
Multimedia software developers
As a top-ranked Media & Entertainment app development company, Andersen employs IT experts with a wide tech stack to build the best solutions for our customers
Andersen's customers rank us as a reliable vendor of custom Entertainment Software solutions that ensure the best possible results
70+
successful IT projects
110+
Multimedia software developers
As a top-ranked Media & Entertainment app development company, Andersen employs IT experts with a wide tech stack to build the best solutions for our customers
Andersen's customers rank us as a reliable vendor of custom Entertainment Software solutions that ensure the best possible results
Nice to meet you!

Welcome, I am glad to greet you on behalf of Andersen's Media & Entertainment department! My team develops a broad range of industry-specific solutions and services, including Live Streaming and Video on Demand, DAM Platforms, Media Security Solutions, Social Media Apps, and more. With a wide range of IT tools that we have mastered and solid experience in Media & Entertainment, we'll be glad to help your business drive more value via custom-built up-to-date products. As an entertainment app development company, we apply the latest technologies and approaches to deliver the best possible results. Let's discuss your next initiative and how we can help you!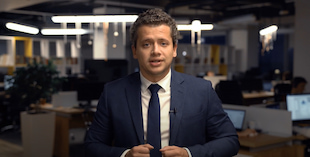 Greetings from our expert
Media & Entertainment Software Development
Live Streaming App Development
Andersen builds the best Live Video Streaming software to enable you to create, extend, and manage your streaming channels or apps effectively and with the highest quality.
We are ready to share our expertise:
HLS, MPEG-DASH, and RTMP support;
White-label services and solutions;
Live Video Streaming software.
See more
Andersen's case studies in Media & Entertainment Software Development
Andersen, as a Media & Entertainment app development company, helps to create best-in-class software tools for your business to perfectly fit your needs. See our best results reflected in our delivered projects.
Get a quote for Media & Entertainment Software Solution
Why choose Andersen for Media & Entertainment Software Development
Andersen's team uses the latest technologies, follows current trends, and helps you achieve your goals by applying innovative approaches in custom Media & Entertainment IT solutions. The impressive experience and deep expertise of our specialists in the field of Media & Entertainment Software Development Services will allow you to aquire everything you need for success.
Expertise in Media & Entertainment Software Development
Since 2007, we have been creating Media & Entertainment solutions, including live video streaming software, VOD software, digital asset management software, social media platform software, etc. Andersen has gained enormous expertise in the Media & Entertainment realm.
Integrations with external tools provided by various third-parties
Andersen provides different ways to integrate with various video solutions. You can integrate with live streaming platforms like Zoom to use the web conferencing platform's P2P functionality, and you can also stream Twitch content directly into your app.
Content digitalization
Use online publishing programs and live video streaming software in your operations, simplify your business with the latest tech, and become a leader in your field owing to innovative solutions. Digitizing your processes allows you to structure, update, and distribute your content more quickly.
Cost-effectiveness
Live streaming delivered via professional video streaming software is more cost-effective. Andersen will ensure all the necessary functionalities and features and develop what you need under the most favorable conditions. Cooperating with us is an investment that drives returns.
Customer support
You will have access to knowledgeable 24/7 customer support whenever any issues arise with your entertainment software solutions. Andersen takes on any difficulties you encounter and guides you through all of them so that you can focus on higher-value activities.
Focus on usability
Andersen's team follows the principle of simplicity and usability when building Media & Entertainment IT solutions. The design envisioned and created by our experts will boost the demand for your products, increase revenue, and expand your client base.
Andersen's tech stack for Media & Entertainment Software Development
Benefit from highly experienced specialists in web and mobile development with a trusted Media & Entertainment software development company. Andersen employs the latest technologies, frameworks, and components to create solutions that combine a strong back-end with easy to use design.
Media & Entertainment tech expertise
Players

Media Processing

Brightcove
Dacast
Kaltura
Vplayed
Vimond
JW Player

AWS Elemental
Harmonic
Zencoder
Mediakind
Vantage
Envivio
Analytics

Cloud infrastructure

NPAW
Microsoft Clarity
Hotjar
comScore Google
Analytics
Broadpeak

AWS
Azure
Google Cloud
Oracle
Salesforce
Digital Ocean
CDN

Akamai
Fastly
Amazon CloudFront
Microsoft Azure CDN
Cloudfare
KeyCDN
Something to think about
Andersen tracks the latest trends and changes in the field of Entertainment Software Development to share news and our thoughts.
We are ready to assess your media app development challenges and help you with them. Schedule a call to start.
We are proud of the great projects Andersen has taken part in. Here is what our customers say about our expertise in Media Entertainment Software Development.
Book a free IT consultation
What happens next?
An expert contacts you after having analyzed your requirements;
If required, our media software development company signs an NDA;
We submit a comprehensive project proposal with estimates, timelines, CVs, etc.
Customers who trust us
Book a free IT consultation