Collaborate with an expert Media & Entertainment software solutions company to obtain best-in-class tools
Nice to meet you!

Welcome, I am glad to greet you on behalf of Andersen's Media & Entertainment department! My team develops a broad range of industry-specific solutions and services, including Live Streaming and Video on Demand, DAM Platforms, Media Security Solutions, Social Media Apps, and more. With a wide range of IT tools that we have mastered and solid experience in Media & Entertainment, we'll be glad to help your business drive more value via custom-built up-to-date products. As an entertainment app development company, we apply the latest technologies and approaches to deliver the best possible results. Let's discuss your next initiative and how we can help you!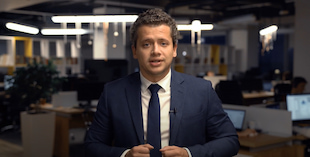 Greetings from our expert
Media & Entertainment Software Development
Media & Entertainment Software Development
Live Streaming App Development
Andersen builds the best Live Video Streaming software to enable you to create, extend, and manage your streaming channels or apps effectively and with the highest quality.
We are ready to share our expertise:
HLS, MPEG-DASH, and RTMP support;
White-label services and solutions;
Live Video Streaming software.
See more