Start your project with a Discovery Phase to significantly reduce project risks and costs in the future
Company of experts
Andersen's team is a pool of seasoned IT professionals whose track record is verified by numerous certificates and industry acknowledgments.
There are 3 groups of typical problems a Discovery Phase solves
Lack of product vision
No clear idea of the architecture, ill-defined goals, and absent criteria for success.
Unclear processes
Inaccurate estimates of bottom-line costs, implementation time, and necessary resources.
Unperceived risks
Insufficient understanding of risks and dependencies with a high chance of project failure.
Found your problem? Our team of professional Business Analysts, UI/UX Designers, and Solution Architects can help you out.
Project Vision
A high-level Project Vision based on deep business analysis and focused on the minimum viable product and future development priorities.
Requirements Specification
A list of features the solution will offer and identified user needs it will cover to accurately meet and fulfill your business goals.
Architecture Vision
A vision of the future software architecture and its components in order to ensure high performance, operational stability, and advanced features.
Work and Cost Estimate
Estimated price and pre-planned works needed to carry out your software development project on the basis of the vision, scope, and functionalities.
Accurate Project Roadmap
A roadmap with deadlines, deliverables, and a resource allocation plan to ensure timely releases and the best possible development outcomes.
Risk Assessment
Identification of likely risk factors, obstacles, and other potential issues that may make the resulting product either outdated or unstable.
Select professional IT services for your software development project.
Team of experts
Hire the high-end specialists you need. Get CVs in no time, and our dedicated team will start working on your project with full responsibility so that you can receive an outstanding software solution.

Vitaly B.
Business Analyst
SUMMARY
UML, BPMN, Axure RP, Balsamiq, Figma, Draw.io, Visual Paradigm, Enterprise Architect, Lucidchart, Jira, Confluence, MS Office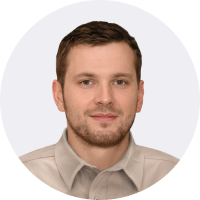 Dmitry S.
Solution Architect/Tech Lead
SUMMARY
JavaScript, TypeScript, NodeJS, Symfony, Yii2, Laravel, Angular, React, jQuery,Docker, RabbitMQ, Kubernetes

Alexandra G.
UI/UX Designer
SUMMARY
Figma, Sketch, Axure, Principle, Affter Effects, Lightroom, Photoshop, Zeplin, ZBrush
Expert custom solutions with over 1000+ projects delivered
Assisting businesses across major industries address complex problems with technology solutions. We use industry-specific knowledge to custom-tailor solutions to meet each customer's unique needs.
Something to think about
The subject of Project Discovery Phases is very nuanced. Here are some of our thoughts and news tracking the latest trends and changes in the fields related to Project Discovery.
Contact us for a free consultation on Discovery Phase
Need a hand with your project discovery phase? Fill out the form below to receive a free consultation and find out how Andersen can help your business grow.
What happens next?
Our expert contacts you shortly after having analyzed your business requirements
When required by you, we sign an NDA to ensure the highest privacy level
Our pre-sales manager submits a comprehensive project proposal. It may include estimates, timelines, lists of CVs, etc., for a particular situation
The team assembled for your IT project can start delivering within ten business days