Feb 9, 2021
6 minutes to read
views
Rapidly advancing technologies improve the life of society in many areas. In particular, staff management software helps companies acquire and retain their main asset - human resources. How do IT solutions optimize the work of HR departments? And can one attract talented specialists to the team using such apps? Let's try to figure it out.
HR technologies have changed in recent years. Today, it is not just a tool for automating HR tasks. For example, gamification in employee training and video interviews have become popular trends. Companies are using systems based on Artificial Intelligence and Machine Learning to assess the competence of candidates. Finally, the workforce is now much more mobile. Therefore, today temporary workers find employers in their location via mobile applications.
That is why organizations need an HR tool that will help them attract high-class talents to their team and build a strong corporate culture. One of these tools is staff management software. Such a system allows companies to store and send data, analyze information, find and onboard employees, make payments, create reports, and perform other related actions.
These programs are used not only by HR specialists but also by managers, employees, recruiting agencies, and job seekers. The latter are more likely to use mobile applications to track vacancies and respond to messages in real time, while companies and agencies prefer web applications. Features of staff management software What are the main tasks that HR systems solve? Depending on the needs and business goals of a company, these programs may include the following modules:
Here, the search and selection of suitable personnel take place. Firms post vacancies where they set requirements for the qualifications of candidates and the payment rate. Job seekers create their profiles, indicate the desired location of an employer, and their salary expectations.
Recruiting companies serve as intermediaries between organizations and candidates. There are common platforms that bring together a large number of such agencies. In this case, job seekers receive vacancies from the agency placed in their location. Recruiters use tools to search and filter employers and candidates, negotiate with them, manage vacancies, etc.
This module improves the efficiency of processes associated with onboarding newcomers. HR software allows for signing and sending documents electronically. Additionally, new employees can receive initial training and familiarize themselves with the company's code of conduct. In other words, such systems allow all participants of the onboarding process to avoid mistakes in the early stages of an employee's work in a team.
With the help of HR systems, managers can assign tasks to employees and monitor their implementation. Programs also track the time spent by team members on assignments. All this allows managers to evaluate the performance of specialists.
A timely reward for team members' success improves their involvement in processes and enriches a company's corporate culture. A special module allows managers to create bonus plans, share them with employees, view statistics, prepare reports, etc.
In the era of remote work, online training with such trends as gamification, AI, and even Virtual Reality is gaining relevance. Using HR systems, companies can identify employees' training needs and draw up individual educational plans.
This module saves time for HR professionals and accountants by calculating employees' wages based on vacations, sick leaves, and travel expenses. Recruiting agencies, in turn, can issue invoices to their clients, send them payment reminders, prepare reconciliation statements, etc.
Benefits of staff management systems
Today, when work is often performed remotely, and teams are distributed, synchronizing multiple departments' activities becomes especially relevant. Staff management software allows employees to respond to new task notifications promptly and communicate with colleagues. Managers can monitor the result of their team's work in real time and make necessary decisions.
Automation of processes greatly simplifies personnel administration. Moreover, well-established mechanisms contribute to forming a positive experience of interaction between a company and its employees.
It is worth mentioning separately the advantages of recruitment software development. Custom HR systems streamline the work of the recruiting department by establishing a transparent workflow for each specialist. That helps managers monitor compliance with business rules by their staff members, including those located in different areas. A well-established step-by-step work system makes it easier to hand things over to new recruiters and allows them to be productive from day one.
Programs with recruiting functions contain candidates' entire work histories, including their skills, age, salary expectations, and other data. And thus, HR managers quickly cover the need for new specialists, effectively plan a budget, and draw up reports based on statistical data.
Today, programs with functionality for finding temporary workers are gaining more and more popularity. This happens for several reasons. Among the most significant ones are the increase in the migrant stock and the demand for freelance medical personnel - the so-called locum tenens. Companies also seek to adjust their teams' size, depending on the budget and ongoing projects.
The above systems enable organizations to find qualified temporary professionals when needed. For example, if their staff member gets sick, goes on vacation, or gets terminated.
For job seekers, this format of cooperation is an excellent opportunity to gain new experience without long-term obligations. In this case, the messaging feature in such programs allows companies and candidates to negotiate the amount of payment suitable for both parties. The systems synchronize with Google Maps, which enables specialists to find work in a convenient location
What to look for when creating an HR system
When developing an HR management application, IT specialists and customers need to consider the following aspects:
Integration with other systems
As a rule, one needs to integrate their HR solution with CRM, ERP, and industry-specific programs (for example, in medicine), as well as synchronize it with marketing automation services (for email campaigns), SMS, and push notifications. Therefore, it is necessary to make sure that the selected services support bulk mailing. A hiring application also needs to be integrated with Google Maps, platforms to create and send invoices, etc.
HR systems contain a wealth of valuable information, such as contracts, employee databases, and payment details. Therefore, recruitment app development requires specialists to pay attention to access control and an information security policy.
Developers of HR systems must be aware of country-specific hiring laws and restrictions. For example, the EU has established a minimum hourly wage for temporary workers, depending on their specialization. Therefore, organizations must consider legal requirements and use the guides for occupational classification when specifying payment rates.
Some countries prohibit the use of temporary workers for certain activities. For example, firms cannot hire such specialists if the work involves interaction with toxic and carcinogenic substances.
Finally, intermediary recruiting agencies set their own business rules that companies and candidates must follow. For example, the parties cannot terminate the contract if less than three days remain before the start of work.
Take away
In 2019, the HR analyst and consultant LAROCQUE issued a report on the development of global HR technologies. According to this report, investments in IT solutions for staff management in 2019 exceeded four billion US dollars.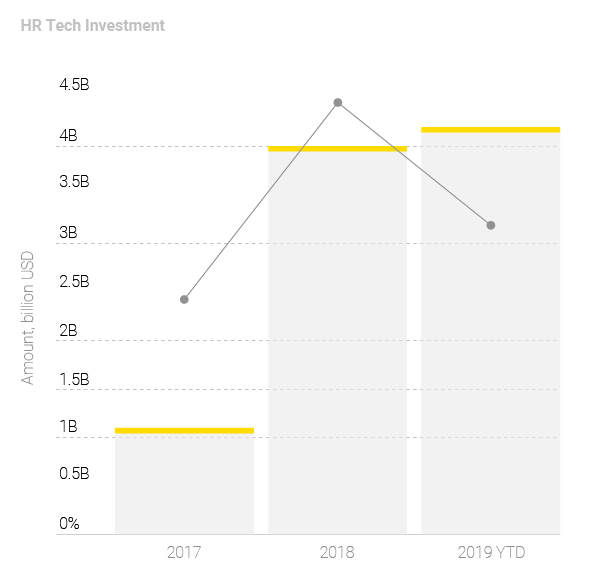 At the same time, the demand for such technologies remains high in many areas, from manufacturing and logistics to healthcare. This significantly fuels companies' interest in developing various systems, applications, and platforms for staff management.
Andersen's experts can help you determine the optimal feature set for a powerful HR product based on your company's goals. We offer customers a full-cycle development of systems for personnel management, from design to ongoing technical support.
Our expert is ready to help you with complex processes. Schedule a free consultation.
Book a free IT consultation
What happens next?
An expert contacts you after having analyzed your requirements;
If needed, we sign an NDA to ensure the highest privacy level;
We submit a comprehensive project proposal with estimates, timelines, CVs, etc.
Customers who trust us
Book a free IT consultation