Jan 6, 2022
5 minutes to read
views
Custom healthcare software (understood as solutions built specifically for a particular organization) is obviously better than one-size-fits-all solutions. After all, modern medicine is, by definition, all about individual cases. Therefore, it is no surprise that custom healthcare software development companies are a popular direction to go for medical providers. At the same time, there are many such companies, so it might be challenging to identify the most suitable one for you.
In this piece, we would like to propose the top 10 options to choose from, in our eyes.
Healthcare Software Market Overview
Back in 2019, even before the COVID-19 pandemic hit, the global size of the digital healthcare market was $175 billion. In 2021, it reached $268 billion. As for 2025, it is projected to reach $657 billion.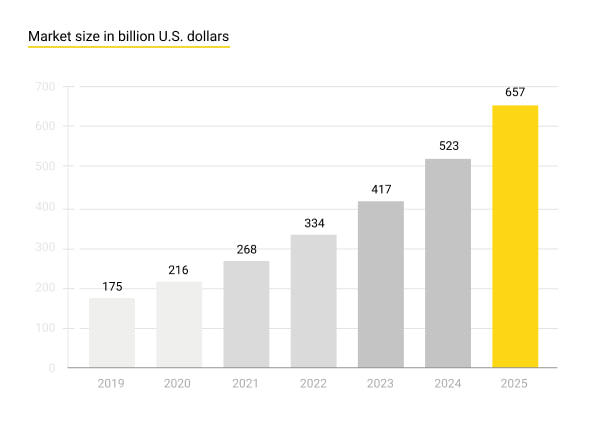 What is nurturing this enormous growth? The reason is simple.
On the one hand, we are still facing the consequences of the ongoing COVID-19 pandemic and other economic disruptions caused by negative political developments. This factor causes shortages of the available resources that can be allocated for healthcare. On the other hand, any truly modern healthcare system is an extremely expensive domain due to the highest possible qualification requirements, safety issues, and compliance concerns.
Hence, as the Deloitte experts rightly point out, "paradoxically, the ... economic recession and health systems' increasing costs provide the perfect storm to force health care systems to change their workforce, infrastructure models and care delivery models." This combination automatically predetermines digital transformation and the urgent need for custom healthcare software.
The second question is: why are custom-built software solutions better than off-the-shelf software? In spite of the fact that, at first sight, ordering such a tool may seem a costly and time-consuming venture, there is an entire bunch of advantages of custom healthcare software:
It is tailored-fit by default;
As such, it offers you unprecedented efficiency;
It is built to match your existing tech and health management environment;
Finally, it is scalable and can be updated and improved as your healthcare business grows.
One should not underestimate the importance of these factors. The price of error is much higher than usual when it comes to the most popular custom healthcare software in highest demand right now, such as:
EHR systems;
TeleMedicine tools;
Medical imaging and visualization software;
E-prescribing solutions;
Health diagnostics software;
Remote patient monitoring and personal health records;
Software for healthcare accounting, billing, and hospital management in general.
With these considerations in mind, one should choose a company for custom healthcare software development carefully.
Criteria for choosing the right vendor and the list of top healthcare software companies
The checklist you can apply while choosing a custom healthcare software development company is quite typical.
Industry rankings, track record, and customer reviews. Clutch.co is certainly your direction to go in this respect (the recommended rating is between 4.8 and 5).
The proximity of a vendor's development methodology to your expectations (normally, most customers opt for Agile).
Are they going to provide you with full and unlimited access to their code?
In addition to that, there are two more crucial aspects to consider when it comes to healthcare:
What are the compliance certifications of a company?
Does a company have a Healthcare Advisory Board with trustworthy members?
Considering all these aspects, the top 10 list looks as follows:
Andersen is ranked first for the reasons specified later.
2. Brandmed
Brandmed is a prominent Poland-based company focused on healthcare solution development.
3. BairesDev
BairesDev is a leading nearshore outsourcing provider.
4. Experion Technologies
Experion Technologies is a software product engineering vendor from the US.
5. Inoxoft
Inoxoft is an international software development company from Ukraine.
6. Orases
Orases is a company that builds custom software solutions in the US.
7. Saritasa
Saritasa is an American provider of mobile and web apps, IoT solutions, etc.
8. N-iX
N-iX is a Ukrainian provider of software development services.
9. Intetics
Intetics is a US-based international tech company.
10. Altoros
Altoros is an American company focused on custom software solutions and cloud-native DevOps.
While all of them are reliable and successful healthcare app development companies capable of matching your needs, we believe that Andersen is a top provider if one takes all the aforementioned factors into consideration:
Our Clutch ranking is 4.9;
Over the past 16 years, Andersen has delivered over 150 IT projects for healthcare;
Andersen's 300+ healthcare software developers include such high-caliber experts as HCISPP-certified managers, HIMSS professionals, and AWS engineers;
Agile is Andersen's official software development methodology, with extended transparency;
Finally, Andersen has a healthcare advisory board with over 30 clinicians, researchers, and experts.
Andersen's expertise in custom healthcare software development
To substantiate this claim, we have cited a few cases illustrating Andersen's expertise in custom healthcare software development.
1. AI-powered healthcare imaging tool for diagnostics delivered for AIND
This solution is used to diagnose Alzheimer's disease and some other brain and lung tissue modifying conditions.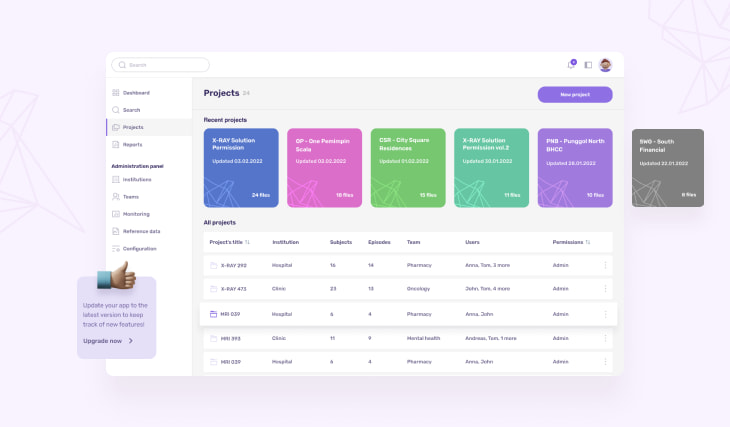 Functionalities and capabilities:
Convenient and task-driven UI/UX;
DICOM file de-identification;
DICOM uploader;
Dynamic image analysis;
Integration with PACS and EMR.
2. IT tool to manage a dental business delivered for TaskDent
In this case, Andersen has built a platform for dental business data processing with extended potential.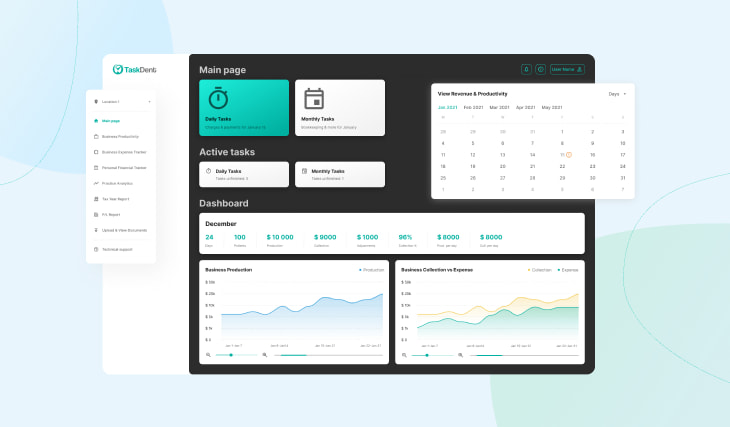 Functionalities and capabilities:
Tracking of income, expenses, and financial statuses;
Calculations and charts on the basis of previously uploaded numbers;
Seamless data input;
Assignment of business tasks;
Management of user roles and access rights.
3. Data-driven solution for a skin-care company
This skin-care platform is built for a manufacturer of skin care products.
Functionalities and capabilities:
System of personalized user profiles for consumers of skin-care products;
Convenient system of patient registration;
Dashboard capabilities;
Alerts and notifications.
Conclusion
As you can see, custom healthcare is the best match for any medical care provider after your organization reaches a certain level. Building such tools, beyond any doubt, seems costly at first sight, but this initiative is worth the cost. At the same time, it is still recommended to be scrupulous in selecting your custom healthcare development company.
Contact Andersen to explore available partnership options!
Our expert is ready to help you with complex processes. Schedule a free consultation.
Schedule Your Free Consultation
Need a hand with custom software development? Fill out the form below to receive a free consultation.
What happens next?
An expert contacts you shortly after having analyzed your business requirements;
If required, we sign an NDA to ensure the highest privacy level;
A Pre-Sales Manager submits a comprehensive project proposal. It may include estimates, timelines, lists of CVs, etc., for a particular situation;
The team assembled for your IT project can start delivering within ten business days.