Discovery phase
The discovery phase helps to get a clear understanding of the future product, its architecture, the functionality to be implemented and the set of all tools and frameworks to be used during the development
Possible outcomes of the discovery phase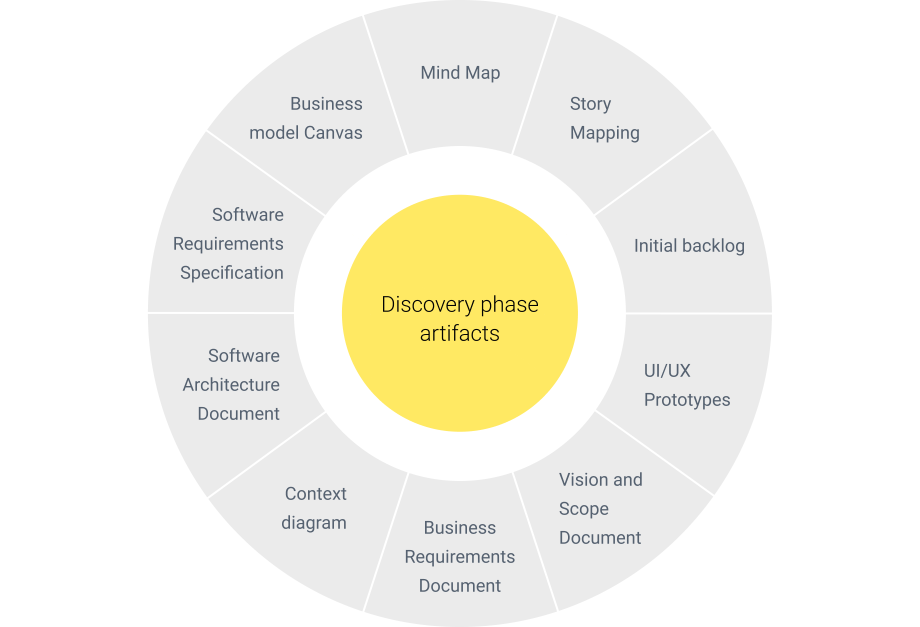 About the service
The discovery phase is a research and planning process where business analysts, solution architects, and other Andersen's experts work closely with each other to specify the most suitable architecture design, a most accurate estimation, and a road map of the future development.
Learn more details from our Discovery Phase presentation
Problems that force you to carry out Discovery phase
Market and competitors are not studied properly
Business process, covered by the product, are not scrutinized
Business goal and success criteria of the product are not clear
Product functionality is not fully described
All the stakeholders and their responsibilities are not clarified
Project estimates are overwhelmed
End-users of the product and their needs are not investigated
Planned technology stack doesn't meet the project needs
The benefits from the discovery phase:
A clear vision of the product for the whole team
Planning based on facts from the expert research
An ability to avoid numerous business risks
Efficient use of time, human and financial resource
An ability to adapt the project to the budget
Development team clearly understand your needs
Optimization of development costs
You can plan budget expenditures with more accuracy
Contact us for a free financial services IT consultation
Need a hand with financial services software development? Fill out the form below to improve your business.
What happens next?
Our expert contacts you shortly after having analyzed your business requirements
When required by you, we sign an NDA to ensure the highest privacy level
Our pre-sales manager submits a comprehensive project proposal. It may include estimates, timelines, lists of CVs, etc., for a particular situation
The team assembled for your IT project can start delivering within ten business days