Achieve reduced project costs, well-planned delivery and unprecedented quality of execution
COST
Cost reduction is achieved through competent IT projects cost estimation and cost control for managing the fluctuation of it throughout the project.
SCOPE
Smart prioritization of tasks and efficient allocation of resources supplemented by proper task management, assure timely and cost effective delivery of scope.
TIME
A well-managed project schedule is achieved through PMs' capabilities of using collaborative time management tools and processes.
Company of experts
To test knowledge, confirm their qualifications and professional skills, our experts receive the following certificates in the field of Project Management.
Most common faults of Project Management are about scope, cost and time
If you recognize any of these 3 problems, your Project Management process needs improvement:
Unclear costs
The project's budget has extended or subject of discussion, deadlines are missed, final result is unclear to management. Budget utilization is obscure, no option to assess and focus on features that deliver value to customer.
Project as black box
You are unsure about your project status, can't recognise the exact responsible person for tasks. Deadlines are not the axiom and may be extended without management's control.
Workload gaps
Development team utilization is ambiguous, focused on timesheets, not achieving goals Workload monitoring does not represent a clear view of project implementation.
Discuss the opportunities of making your project 25%+ more efficient with our Project Management
Project manager
Responsible for project management, setting up processes, and getting clear results in compliance with the basic parameters: scope, budget, and time.
Product Owner (Manager)
The Product Owner is responsible for maximizing the value of the product resulting from the work of the development team.
Scrum Master
Responsible for ensuring Scrum practices over the course of a project, facilitating the process for the firm, Product Owner, and the team.
Our projects
We often meet the same problems on our customer's projects. Let's take a look at how we solved them on certain examples
Value PM adds to a project
Feel the difference between project with Project Manager and without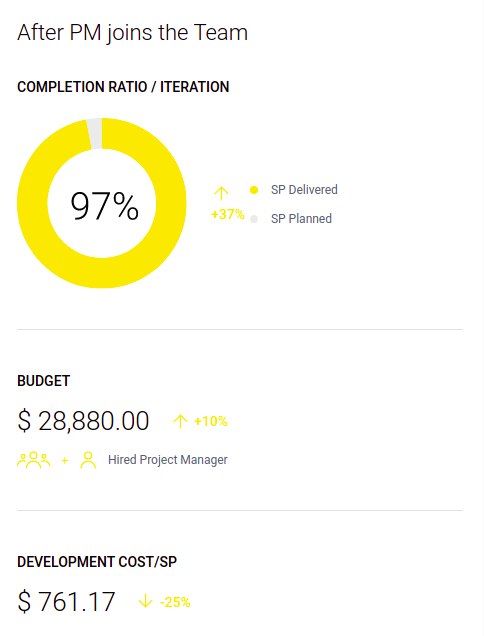 Example of project reports
Our clients are provided with weekly reports enabling project processes monitoring and goals achievement progress.
Our Project managers
If you need high-end specialists on an urgent basis, we are here to help. Get CVs in no time, choose the best of the best, and our specialists will start working on your project with full responsibility so that you can receive the solution you need as soon as possible.
3

days to provide developers

10

days to start

2

weeks of free trial
Project Manager
SUMMARY
Jira, Confluence, Pivotal, MS Project, Trello, Figma, Draw.io, Mindmaster, Coggle.it, TestRail
Project Manager
SUMMARY
Jira, Confluence, Asana, Redmine, Trello, Axure RP, Figma, Draw.io, Jenkins, SonarQube, Agile
Project Manager
SUMMARY
MS Project, Trello, Jira, Confluence, YouTrack, Figma, Zeplin, Agile (Scrum, Kanban), Waterfall, Bitrix
Expert custom solutions with over projects delivered
Assisting businesses across major industries address complex problems with technology solutions. We use industry-specific knowledge to custom-tailor solutions to meet each customer's unique needs.
Something to think about
Sharing our thoughts and news tracking the latest trends and changes in the Project Management field
Contact us for a free consultation on Project Management
Fill out the form below to receive a free consultation and find out how Andersen can help your business grow.