A brand new concept in the sphere of car rental
Project ROI
After 6 months from release, we usually ask customers about the financial results of a project to make sure we did our job well
Project timeline
Andersen team has spent more than 280 hours every week on the development of this solution
Global player
The system for car rental is available worldwide
About the project
The customer is a Finnish company with a simple but innovative approach to car rental, whose success sky rocketed with, at first sight, a rather trivial product. The customer entrusted Andersen with the task of building a car rental system capable of all the functionality common for other systems of this kind with two conditions: the system should be keyless and so simple and intuitive that even a child or your great-grandma can use the service seamlessly.
Tech Stack
React Native, React, Node.JS, AWS
AWS Solution
AWS covers a lot of regions and offers SaaS and PaaS services which help the businesses to focus on their core businesses without worrying about scalability and maintenance. We developed a well-architected serverless application following best practices.
The application architecture consists of a front-end web application (CRM) and a mobile application that interacts with a number of basic microservices to provide a car rental function. Used Amazon Services: S3, SQS, SNS, SES, RDS, CloudWatch, Lambda, API GW, Step Functions, CloudFront, Route 53, Elastic IP, SSM, ACM.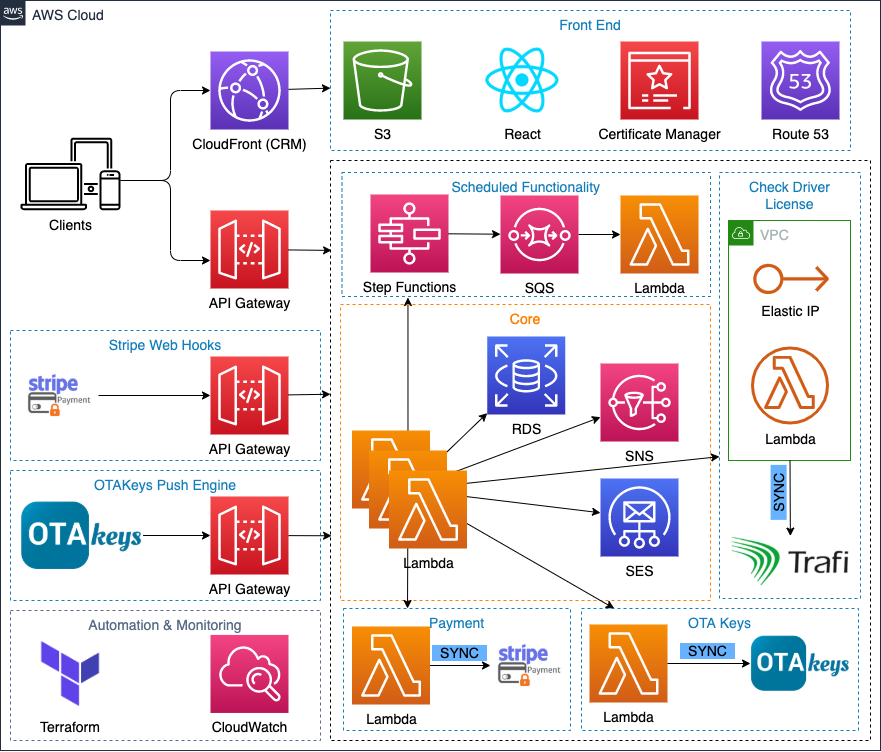 Visual concept
UX-research
In order to create the interface that this application deserves, we discussed the concept with the customer, studied 5 most popular web platforms of this type, as well as analyzed the experience of people who used car rental services.
UI-system
When building the UI system for the app, we were guided by the principles of simplicity and minimalism. The design is created in green and white colors, which are the brand colors of the customer's enterprise.
Progress bars and UI Controls

Main screens
Start screens
Simple authorization as it is: just specify your phone number, enter and then confirm your password. For more convenience, we provided the possibility to log in with Gmail and Facebook.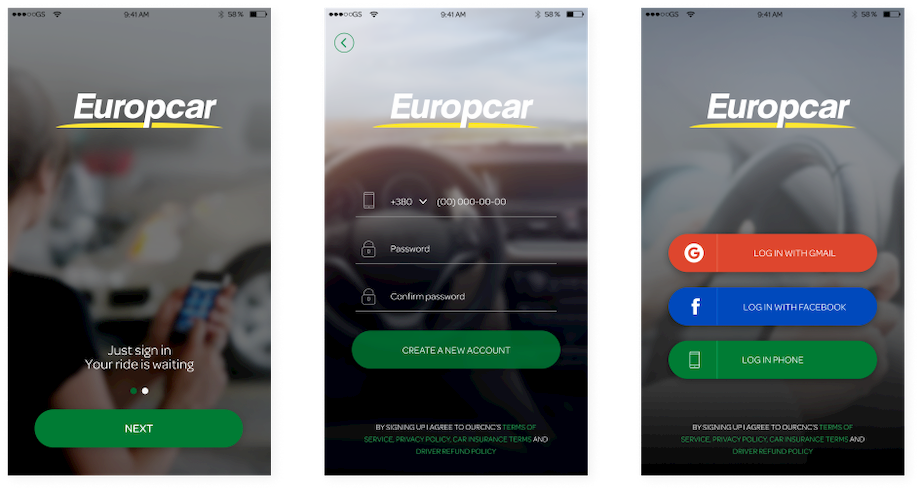 Map
After specifying the period of usage, location, and preferable type of a car, a user can see a map with all available cars nearby together with the price for their rental.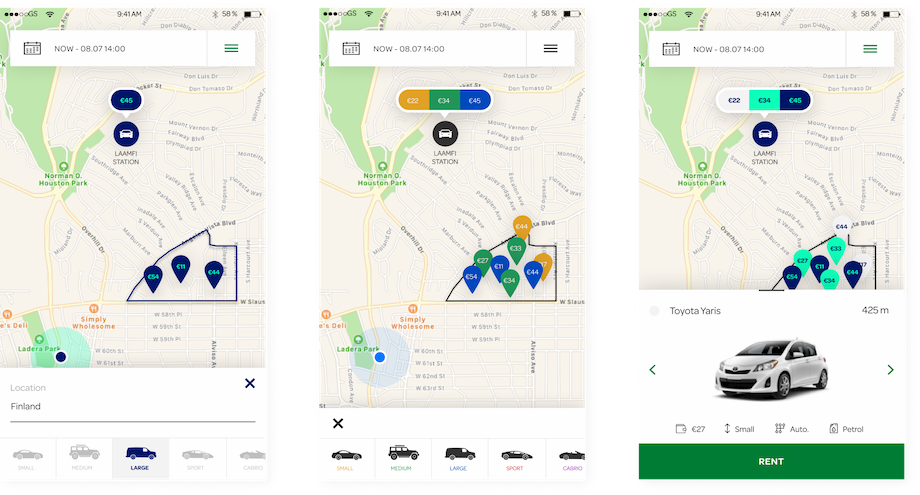 Card
The application allows viewing all user's rentals: past car usages, the current contract, and upcoming car rentals. Each rental contains information about the date, cost, vehicle model, and some additional options such as a child seat or a navigation system.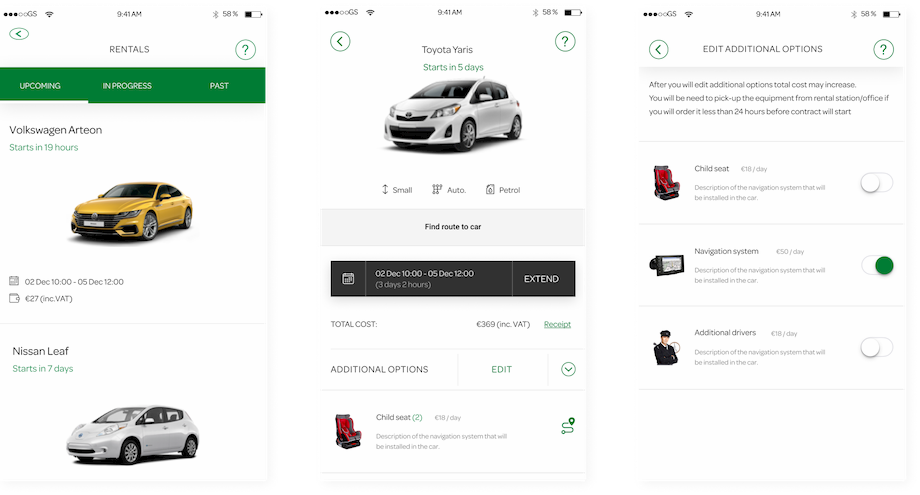 Several pages
Profile
In order to use the customer's services, a user is supposed to specify their full name and contact details, as well as the number of the driver license and the numbers of plastic cards for payment.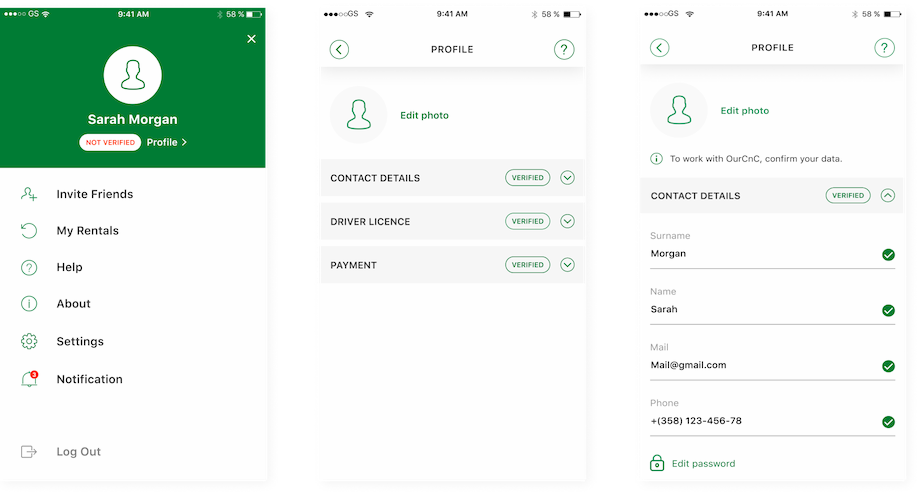 Rental start
Before starting the car usage, a client is expected to read the terms of condition, confirm the contact information, and check the car for damages. After that, the rental appears in the tab "In progress".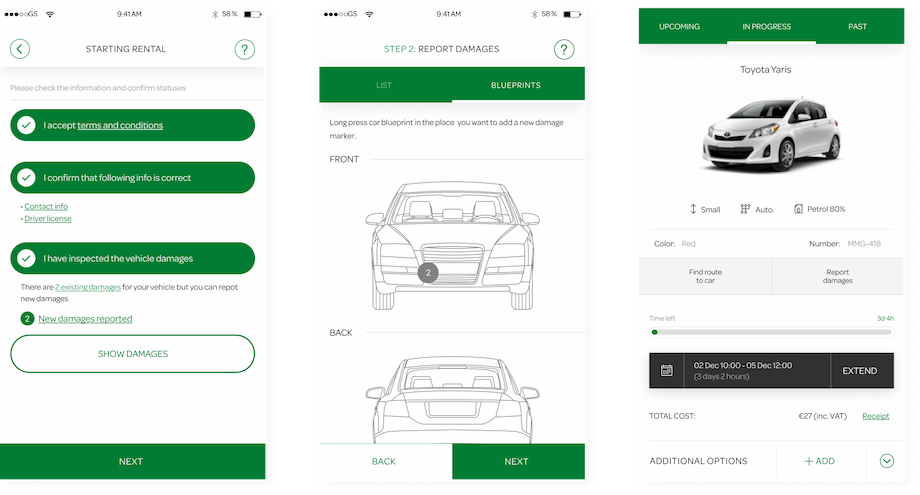 Car reviews
After using the car, a client is suggested to report on damages and cleanliness status, as well as rate the customer's services to help in making them better.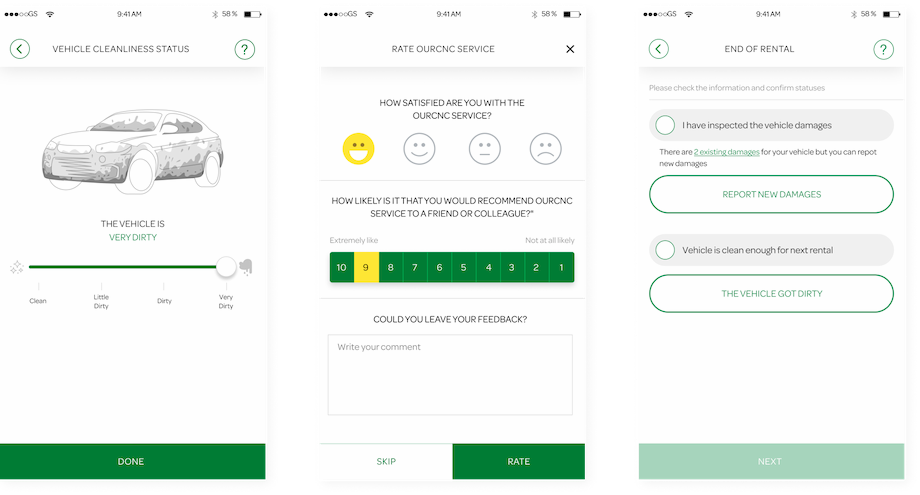 Project team
Engineers with wide range of technical skills participated in this project. You can study their CVs and include in your team if need
Project Results
Inspired by the idea of minimalism, Andersen's team produced a simple and neat but high-tech system that positively stands out from the huge amount of similar products. The possibility to choose a car by class, cost, size, fuel, location, etc. made the system really convenient for users and thus increased the number of the customer's clients. Besides, the implemented car door lock system provided the additional protection of the customer's vehicles from the car thefts.
Client's feedback
SMB, enterprise and startup clients return to us because they're happy with our work. Here's what they say about Andersen.

12-month cooperation between our company and Andersen's team was incredibly friendly and fruitful. Together we managed to build a truly modern and high-profile system which provides the opportunity for the successful development of our business and simple procedure of renting our cars for clients.