Get a secure, reliable, and cost-effective solution with a team of cloud application development experts
Clouds We Partner With:
Deliver the right solutions on the leading cloud platforms. Here are just a few of them
Cloud Application Services
Migration
We determine and implement the best migration strategy to conduct transition to the cloud:
Security Strategy Creation

Large Databases Migration

Application Re-hosting

Application Re-architecting
Support/Optimization
To reduce overall cloud expenses we evaluate your existing cloud infrastructure, identify overprovisioning or under-utilized resources:
Cost Optimization

Legacy Infrastructure Upgrade
What we do
Cloud Native Development
Optimizing project workloads, governing usage of existing cloud resources, building microservices, behavior-driven design, etc.
Cloud Hybrid Development
Cloud engineers combine public clouds, private clouds, and on-premises resources to achieve the agility required for a competitive advantage.
Cloud Migration
Andersen will help your business migrate from on-premises infrastructure to the cloud, ensuring security, flexibility, and confidentiality of your data.
SaaS/PaaS/IaaS
Experts work with SaaS, PaaS, and IaaS, each of which allows you to save on equipment and protect your confidential information from hacking and stealing.
Application Re-architecting
Providing a sophisticated approach and services to re-architecting processes and apps by using service-oriented (or serverless) architecture.
Cloud Consulting
Organizing business transformation with innovative cloud applications and providing detailed advice at every stage of the transition.
We are ready to assess your challenge and help you with it. Schedule a call to start.
Cloud providers we work with
Owning a great competence in the leading clouds, we can provide you with an ideal solution for your business.
Team of experts
Hire the high-end specialists you need. Get CVs in no time, and our dedicated team will start working on your project with full responsibility so that you can receive an outstanding software solution.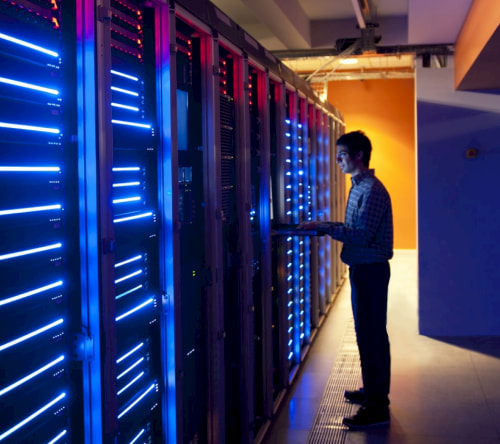 AWS provides database storage, content delivery and other functionality for creating complex applications
More about AWS
Something to think about
In a constantly changing world, it is important to keep up with the times. Today, we bring to your attention our research in Cloud development and related industries.
Project Examples
Successful collaboration results between our team and customers.
We are proud of the great projects Andersen has taken part in. Here is what our customers say about our expertise in Cloud Development.
Need a hand with Cloud Development?
Fill out the form below to receive a free consultation and find out how Andersen can help your business grow.
What happens next?
An expert contacts you shortly after having analyzed your business requirements;
When required by you, we sign an NDA to ensure the highest privacy level;
A Pre-Sales Manager submits a comprehensive project proposal. It may include estimates, timelines, lists of CVs, etc., for a particular situation;
The team assembled for your IT project can start delivering within ten business days.