Jan 6, 2022
5 minutes to read
views
Tailor-made medical software designed specifically for a particular company is undoubtedly superior to off-the-shelf digital products. Modern medicine revolves around individual cases, and hospitals and clinics choose top healthcare software development companies to partner with. But how do you find the right fit, with so many options on the market?
In this article, we'll tell you how to choose a healthcare software development company.
Healthcare software market overview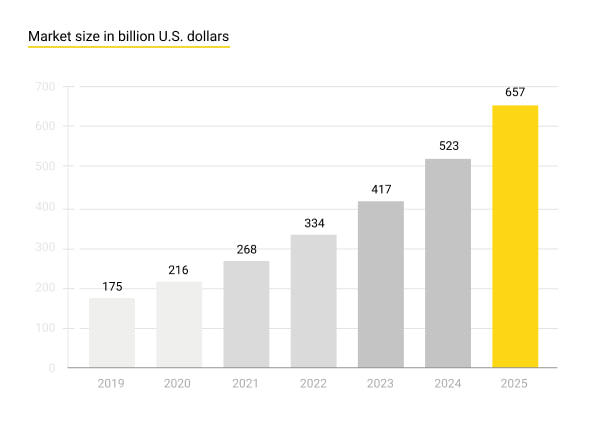 The global digital healthcare market was valued at $175 billion in 2019, before the outbreak of the COVID-19 pandemic. By 2021, it had grown to $268 billion, and experts predict it will continue to rise, reaching an estimated $657 billion by 2025.
How is this possible? What is driving this significant growth? The answer is simple.
We are still fighting the consequences of the COVID-19 pandemic and other economic disruptions caused by unfavorable political events. The resources that could be spent on healthcare are scarce. What's more, any innovative medical system is extremely expensive due to the highest possible qualification requirements, safety issues, and compliance concerns.
Deloitte experts say "paradoxically, the … economic recession and health systems' increasing costs provide the perfect storm to force health care systems to change their workforce, infrastructure models and care delivery models." This combination inevitably leads to digital transformation and the necessity of individual medical solutions.
Now, these questions arise: Why do clinics choose bespoke software products? How are they superior to off-the-shelf ones? Although it may initially seem like a costly and time-consuming endeavor to order such a tool, custom medical software offers numerous benefits, including:
all the features you need built-in by default;
unparalleled performance;
perfect compatibility with your tech and health management environment;
enhanced scalability and enough room for further improvements.
These factors are significant and cannot be underestimated. The price of error is immense when you deal with the most demanded healthcare software solutions, such as:
EHRs/EMRs;
telemedicine software;
digital products for medical imaging and visualization;
ePrescribing software;
health diagnostics tools;
RPM and personal health records;
solutions for accounting, billing, and hospital management.
Medical professionals who know how to choose a healthcare software development company consider the above issues when looking for a reliable tech partner.
How to choose a healthcare software development company
Choosing a top development company with relevant expertise and experienced specialists is an important task for any medical facility. The quality of software directly affects internal clinical processes and patient care, so you should take this seriously. If you want to find the right vendor, pay attention to the following criteria above all:
First, you must determine your requirements (purpose, budget, deadline, etc.). If you narrow down your options, you can choose a company that can fully meet your specific needs.
Make sure the IT provider offering software development services has relevant experience in the healthcare industry.
Consider industry rankings, track record, and customer feedback. You can find these on such trustworthy platforms as Clutch. This site offers numerous top rankings according to different criteria. Try to choose companies that top various rankings, with ratings no lower than 4.8 out of 5 stars.
Most clients prefer Agile methodology, so it's essential to consider how closely a vendor's development approach aligns with your expectations. If you choose a company that cherishes flexibility, you will obtain a top-quality product.
Try to find a company whose experts know how to build effective communication with the customer.
Find out if your potential IT partner will provide you with full and unlimited access to the code.
In addition, you should consider two more crucial aspects when it comes to the medical industry: Top companies comply with such regulatory standards as HIPAA, GDPR, etc. Make sure the one you want to partner with has the necessary certifications. Find out if your potential vendor has its own Healthcare Advisory Board with top experts. We hope you will find these tips useful. If you know how to choose a healthcare software development company, you will establish a fruitful partnership with a top provider for the years to come. So, now you can research various sources to review accomplishments, gather ratings, and evaluate user feedback. Compile a list of top healthcare software development companies with the most recognition. If you choose one of the current leaders in the industry, its employees will be able to complete a project of any complexity.
Andersen: a top healthcare software development company with a proven track record and expertise
If you enter "top healthcare software development companies" in the Clutch search engine, you will find providers that are trustworthy and successful. They can perfectly meet your business requirements and deliver robust solutions. Andersen regularly appears in such rankings, and we have already collected massive positive feedback from our clients.
Here are several reasons why Andersen is a top firm you may entrust your project with.
We have an impressive Clutch ranking of 4.9 stars;
We have been present on the market for over 16 years and have already delivered more than 150 healthcare projects;
Andersen employs more than 300 healthcare engineers including experienced HCISPP-certified managers, HIMSS professionals, and AWS specialists;
Our team members have mastered the Agile methodology, and we know how to achieve enhanced transparency;
Andersen's advisory board includes top clinicians, researchers, and experts from the US and Europe.
Andersen's portfolio: notable cases
To support this ranking, we'll give you several cases proving Andersen's expertise in creating impeccable tailor-made products.
1. AI-powered imaging tool for diagnostics delivered for AIND
This digital product helps doctors diagnose Alzheimer's disease and other brain and lung tissue-modifying conditions.
Its core functions are:
Convenient and task-driven UI/UX;
DICOM file de-identification;
DICOM uploader;
Dynamic image analysis;
Integration with PACS and EMR.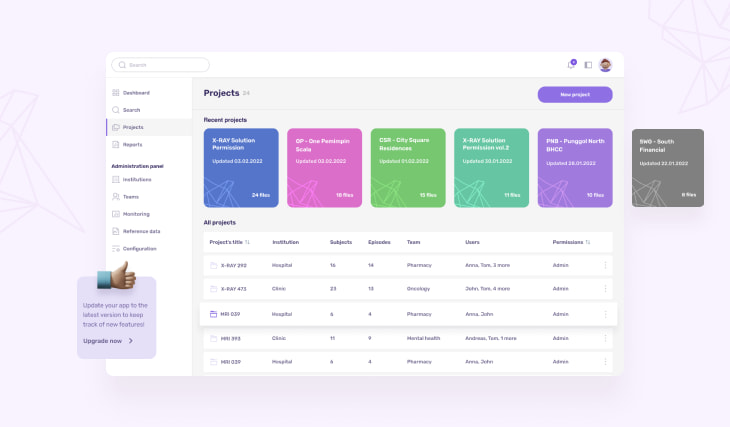 If you are interested in this solution, follow this link for more details.
2. IT tool to manage a dental business delivered for TaskDent
Andersen's developers have created a platform for dental business data processing with extended scalability potential.
Its primary feature set includes:
Monitoring income, expenses, and financial statuses;
Calculations and charts based on previously uploaded numbers;
Seamless data input;
Assignment of business tasks;
Management of user roles and access rights.
Here, you can find a detailed description.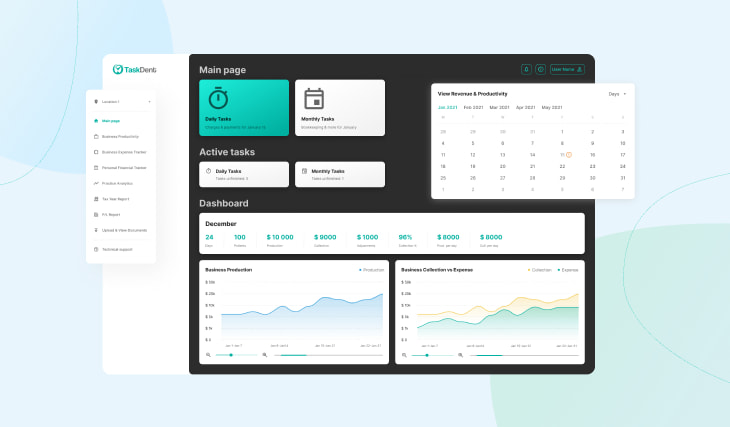 Here, you can find a detailed description.
3. Data-driven solution for a skin-care business
A top manufacturer of skin care products decided to choose Andersen for a high-performance skin-care solution.
Our experts have implemented the following features:
System of personalized user profiles for consumers of skin-care products;
Easy registration process;
Dashboard capacities;
Alerts and notifications.
If you want to know how it works, find the full case study here.
If you want to know how it works, find the full case study here.
To wrap up
Reputable medical facilities order personalized digital platforms to optimize internal workflows and improve the quality of patient care. Though developing such tools might seem expensive at first glance, it is a valuable investment. But you need to choose a custom healthcare software development company responsibly.
Contact us for a free consultation. If you partner with Andersen, our specialists will choose the right tech stack and build a robust product that will meet all your needs. We know how to turn any idea into an efficient high-performance solution.
Our expert is ready to help you with complex processes. Schedule a free consultation.
Book a free IT consultation
What happens next?
An expert contacts you after having analyzed your requirements;
If needed, we sign an NDA to ensure the highest privacy level;
We submit a comprehensive project proposal with estimates, timelines, CVs, etc.
Customers who trust us
Book a free IT consultation